Parachute: partners in road safety since 2008
Preventing injuries and fatalities with support from Desjardins Insurance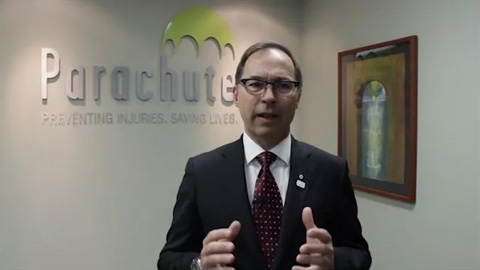 ​
State Farm has partnered with Parachute, Canada's national charity dedicated to injury prevention, since 2008, contributing more than $2.5 million to support Parachute's national work in promoting injury prevention and road safety. Under Desjardins Insurance, we are excited to continue working together with the mutual goal of saving lives and preventing injury. Here's some projects you can expect thanks to the support of Desjardins Insurance.
Vision Zero
Parachute is a champion in Canada for Vision Zero, a multi-national traffic safety initiative with the goal of achieving zero serious injuries and fatalities on the road. We have built a Canadian Vision Zero network to connect, support and inform transportation safety activities in communities across Canada. Since the launch of the Parachute Vision Zero network, the hashtag #ParachuteVZ has garnered 1.8 million social media impressions.
In 2018, Parachute is organizing a Digital Speakers Series, to be shared widely online, on topics of:
Safe school zones
Media and Vision Zero
Distracted driving
Drug-impaired driving
Parachute continues to create and share case studies and materials with road safety and health professionals, and will embark on a national Vision Zero awareness campaign later in the year.
National Teen Driver Safety Week
National Teen Driver Safety Week (NTDSW) takes place the third week of October to raise awareness and educate youth on driver safety. In 2018, our sixth year of the campaign, we will highlight the importance of Vision Zero for future generations, while also continuing to recognize the importance of equipping young and novice drivers with the tools they need to succeed on the road.
NTDSW is federally recognized and includes hundreds of community events and impacts thousands of people each year. In 2017, the week resulted in a social media reach of 10.4 million. Our traditional media reach was 2.8 million. Events include positive ticketing blitzes where youth work with local police, community partners and others to educate their peers on the importance of positive driving behaviours.
Top of page