P.R.O. Kids of New Brunswick recipient of $20,000 Better Things Community Grant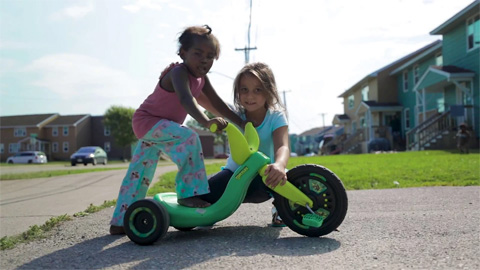 ​
You might remember your childhood being filled with sports, recreation, art and cultural activities. Many would say that these experiences helped shape who they are today. But what happens when financial limitations prevent a child's ability to participate in these activities? Activities that can promote self-esteem, healthy growth, increased knowledge and personal development.
A helping hand
Positive Recreation Opportunities for Kids (P.R.O. Kids) is a charitable program, operated by the City of Saint John, that helps children/youth in financial need. P.R.O. Kids matches them with registered recreation programs and helps families with registration costs, equipment and transportation.
A proactive and confidential service, P.R.O. Kids has partnered with over 150 local sports and recreation providers who donate space in their programs. With these partnerships, P.R.O. Kids has helped over 10,000 children/youth in the past 14 years.
Agents connected to their community
In 2018, Desjardins Agents submitted over 130 organizations and projects from their local communities to be considered for a Better Things Community Grant. Desjardins Insurance has over 470 Agents in Ontario, Alberta and New Brunswick who are directly connected to their local communities. One great organization submitted was P.R.O. Kids, highlighting the amazing work they do for children/youth in Saint John, Quispamsis, Grand Bay-Westfield and Rothesay, New Brunswick.
P.R.O. Kids was one of three organizations chosen by Desjardins Insurance to receive a large grant in the amount of $20,000 to support their cause of helping children/youth in New Brunswick participate in sports, art and culture; regardless of financial barriers.
"Being involved in communities is part of who we are at Desjardins, and no one understands the needs of our customers better than our local Agents who work and live where their clients do."
Barbara Bellissimo, Senior Vice President, Desjardins Agent Network.
"Working at an inner-city school in Saint John I have seen the challenges that youth are faced with every day. We are extremely happy that Desjardins recognizes PRO Kids as a catalyst of change for youth in our community. It provides children an enriching experience while helping to tackle barriers and allows them to break the cycle of poverty."
Jen Brown - Vice Chair P.R.O. Kids Advisory Committee
Top of page