Reducing impaired driving with Desjardins Insurance
Arrive Alive continues important life-saving work with help from Desjardins Insurance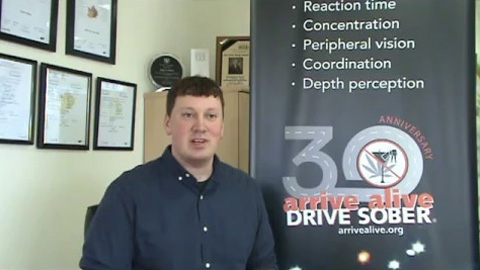 ​
Arrive Alive DRIVE SOBER® has provided leadership and programs to eliminate impaired driving and enabled people and communities to share resources and information that have prevented injuries and saved lives on our roads for 30 years. We have a long history of working with police, government, media, community groups and businesses to spread awareness and share messages about the dangers of impaired driving and preventative strategies.
State Farm® has been a valuable partner of our charity for many years. Through their support, we have been able to host our annual conference to gather road safety professionals from across many fields of study to share sober driving research, initiatives and information. Additionally, they have supported our award-winning, road safety educational video, iDrive: Road Stories. This video addresses several dangerous driving practices and offers safe driving solutions. iDrive: Road Stories was shared with every high school in Ontario in 2009 and with every high school in Canada in 2011.
2018 marks our 30th campaign and we are proud to have Desjardins Insurance partner with us to continue to help prevent impaired driving. Desjardins has committed to supporting several printed educational materials, new Public Service Announcements for TV and radio as well as provided additional opportunities for events for us to share our message with Canadians. With the legalization of cannabis happening in 2018, their support will assist us in raising awareness that driving while high on legal or illegal drugs is just as dangerous, or worse, than driving while impaired by alcohol. Desjardins' commitment to our message demonstrates their passion for road safety and protecting the lives of all road users in Canada.
On behalf of Arrive Alive DRIVE SOBER, I would like to thank State Farm for their past support and express our gratitude for the continued support of Desjardins Insurance. It is through the work of our charity and our partners that Canada has seen a sustained and consistent reduction in impaired driving fatalities over the past 30 years.
For more information, please visit www.arrivealive.org.
Author: Michael Stewart, Program Director, arrive alive DRIVE SOBER
Top of page