Discover the new Ajusto® program
Your habits change—and so does your premium—thanks to Ajusto!
Are you a safe driver? Are you driving less? Good news! The new Ajusto program takes into account your driving behaviour and habits to offer you a more personalized auto insurance premium!
When you sign up for Ajusto, you get a 10% enrolment discount on your premium for the first 6 months.
After that, you get a more personalized premium, which goes up or down depending on your driving.
—
Good to know: nearly 85% of our Ajusto clients are on track to qualify for a better premium.1
Take control of your auto insurance premium today!
How does Ajusto work?
Ajusto is available in the Desjardins Insurance Home-Auto app and gives you feedback on 4 driving behaviours:
Speed
Fast acceleration
Hard braking
Cell phone distractions
Ajusto also looks at your driving habits:
The distance you drive
Your time in the car
Your daily routine
After 5 trips, you get your first score.
Each trip is rated out of 3 stars. Check the trip details to see what influenced your rating and get personalized tips on how you can improve.
How does the personalized premium work?
After 180 days and at least 1,000 km of driving,2 you get a score that influences your auto insurance premium. Your premium is then adjusted up or down to reflect your driving behaviour and habits.
—
• If you're a careful driver, you could see your premium go down by as much as 25%.
• If you're more of a risk taker, your premium could increase by up to 20%.

Good to know: nearly 85% of our Ajusto clients are on track to qualify for a better premium.1
After that, each time you renew, your premium is personalized based on your driving in the past 6 months.
—
Your premium is also based on traditional rating factors like your vehicle's model and year, driving convictions and claims on file.
Learn more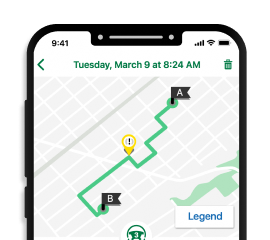 Is Ajusto right for you?
Safe driving comes naturally to you!
—
You're open to using Ajusto on your smartphone.
—
You like the idea that your good driving is finally being recognized with a personalized premium.
—
You want to help make the roads safer by putting the tips in the app into practice.
Congratulations, this program is for you!
Take control of your auto insurance premium.
Learn more about the Ajusto telematics program
Certain conditions, limitations and exclusions may apply.
The discount and the personalized premium do not apply to certain endorsements or additional coverages. Learn more
Ajusto is underwritten by Desjardins Insurance which refers to Certas Home and Auto Insurance Company.
Ajusto® is a registered trademark of Desjardins General Insurance Inc., used under licence.
Apple and the Apple logo are registered trademarks of Apple Inc., registered in the US and other countries. App Store is a service mark of Apple Inc.
Google Play and the Google Play logo are trademarks of Google LLC.
1. Based on the scores of all clients of the insurance subsidiaries of Desjardins General Insurance Group Inc. in their first data collection period, under our new Ajusto program (as of October 1, 2021). [Back]
2. The usage period is 180 days and must include at least 1,000 kilometres driven. During this time, the principal driver must not remain inactive for more than 30 consecutive days.
If you decide to opt out of Ajusto before your first 6 months are up:
• You'll lose your 10% enrolment discount.
• If your score is 60 or less, it will be used to calculate your premium the next time you renew your insurance.
• If you've driven less than 1,000 km, none of your data will be used to calculate your insurance premium. [Back]
Top of page